I said this about my wife back before Christmas.
Signtist wrote:She's also getting a new kitchen, floor, window, ceiling fan, etc put in right now. Too many projects, so little time.
Well, it's done. A bit of trim to go yet. She won the kitchen from a local company in a Facebook contest. Several of you voted for us, no doubt, we are very grateful. Here is what I did as a "Thank You" to Chervin Kitchen & Bath, we just delivered it to them Monday night. It's 24" square glass with mirrored accents, glue chipped, gilded with 18 and 23k gold, and variegated gold. It has mother of pearl accents as well So much fun to do!.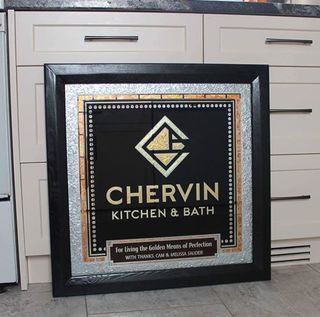 For those of you who saw it on Facebook, I apologize for chewing my cabbage twice!